Sku:
Vendor: iVoltaa
Type: Ring Light
iVoltaa 18" Portable LED Ring Light with touch panel
Tax included.
Spend

₹500.00

to

FREE SHIPPING
RING LIGHT WITH USB - High power Ring LED is suitable for most devices that support USB ports, such as laptops, PCs, mobile power, USB chargers, AC adapters, etc.There are four buttons on the selfie ring light, which can be turned on / off, switch the lighting mode and adjust the brightness level, it is easy to find your favorite option in seconds. Ideal for using lighting in the studio, makeup in the locker room, camping, live streaming, etc.
INTELLIGENT AND QUICK COLOR CHANGE - TYGOT makes it easy to adjust the color temperature from 3400K to 5600K easily without using color filters. Achieve cold white light or warm light to hide blemishes and change skin tones quickly and easily. LED SMD design and 220pcs LED beads on our Ring Light offers more light for your camera photography, live streaming, Facebook Live, beauty makeup, selfies and videos.
DIMMABLE LED RING LIGHT - The LED ring light is equipped with 220 high-quality SMD LEDs and 3 different lighting modes (white light, natural light, and warm light), bright enough to beautify your face. Each lighting mode has 9 adjustable brightness levels to meet all your needs on different occasions. This is the perfect dimmable day lighting to eliminate all unpleasant shadows!
EASY TO INSTALL - Ring LED can be easily installed to any light stand or tripod.
PHONE HOLDER AND 7"feet tripod - Each TYGOT Ring Light has a rotating (360 degrees) phone holder and a retractable tripod that effortlessly helps you capture different levels of brightness and angles of lighting! The phone holder is suitable for most smartphones
View full details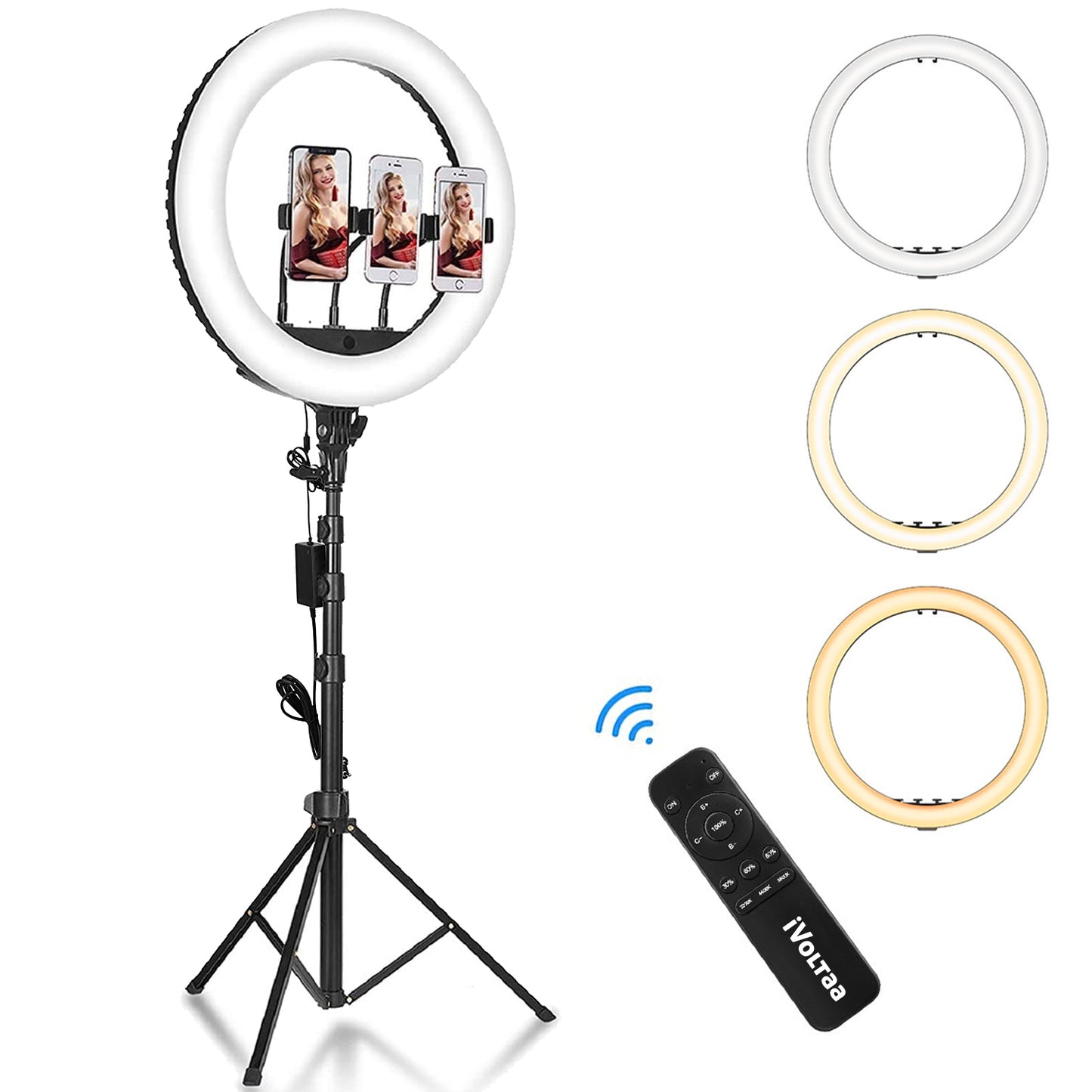 iVoltaa 18" Portable LED Ring Light with touch panel